[Open Call] Dance Makers CampⅡ [AIR in KOBE 2023] (Deadline: 10 Aug 2023)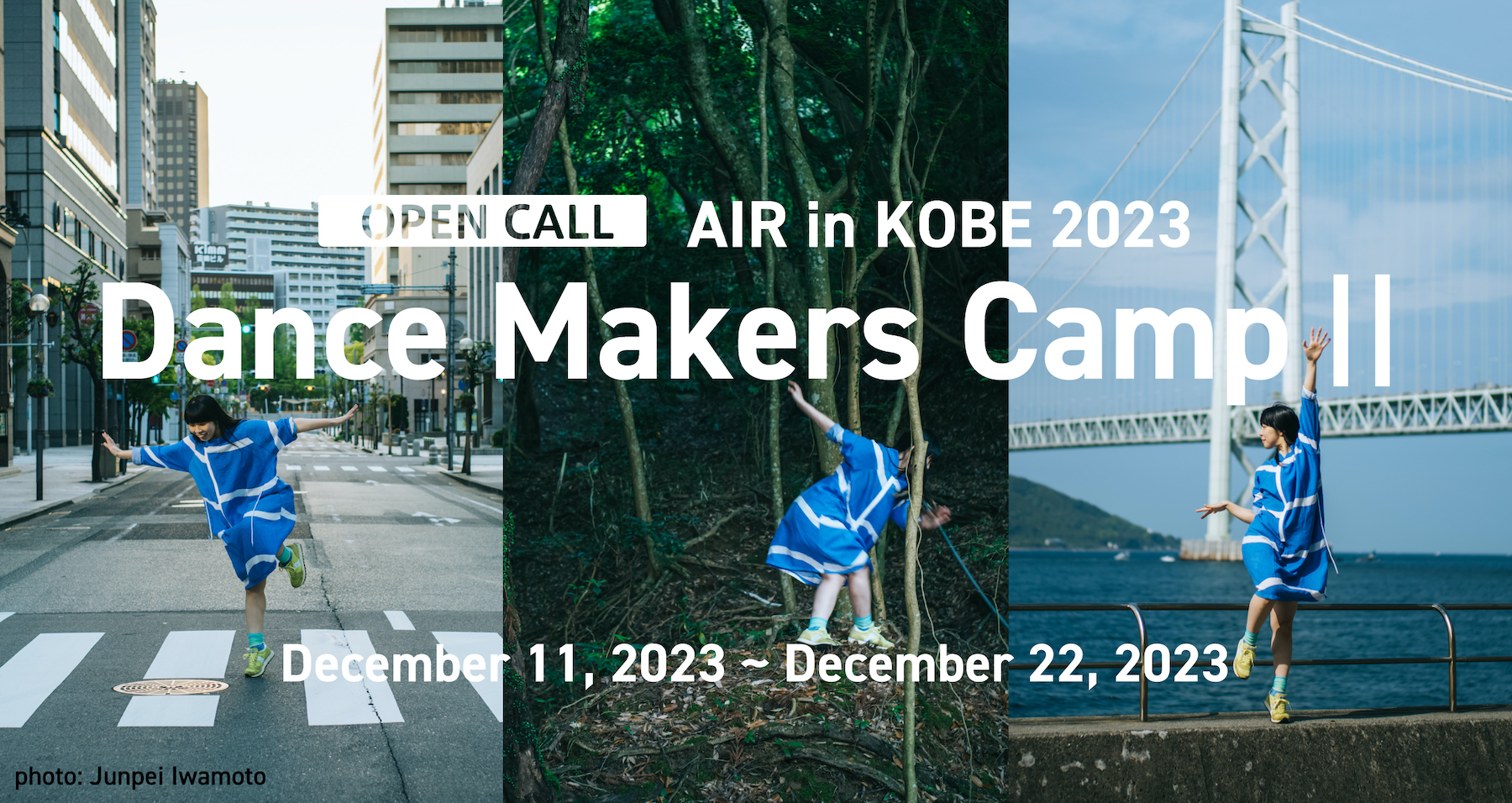 Dance Makers Camp II is a 10-day program held as one of the curricula for 8 Months Residency Program 2023, a training program for dancers and choreographers organized by DANCE BOX.
Description
DANCE BOX started in Osaka in 1996. Since 2009, DANCE BOX has been based in ArtTheater dB KOBE, a small theater in Shin-Nagata, Kobe and engaged with a wide range of programs/activities from contemporary dance performances, the cultivation of young artists, programs that nurtures children's sensibility, international exchanges such as artist-in-residence, programs by artists with disabilities, to collaborations with the local community. Through the power of dance, DANCE BOX produces art programs that open up new visions for society where diverse people live together in harmony.
Dance Makers Camp II is a 10-day program held as one of the curricula for the 8 Months Residency Program 2023, a training program for dancers and choreographers organized by DANCE BOX. Selected young artists from abroad and the members of the 8 Months Residency Program 2023 will spend time together to conduct collaborative research, exchange and experiment with creative methods/techniques to expand their expression.
Participants take various basic classes in the morning and do experimental creations in theatres and studios or go out for research in the city of Kobe. During this period, there will be no instructor or facilitator, but participants make groups on the first day to discuss and decide on themes and research methods.
Participants will communicate in English and Japanese. Many expressions arise even when people good at manipulating words and those who are not work together or even when communication among participants does not go smoothly. We hope this program will be the period for participants to challenge themselves through collaboration in a new environment to make a great leap forward.
Outcome
Each group will give a presentation on the last day, Friday, December 22. Each presentation will be 10~20 minutes and there will be Q&A and discussion after the presentation. A form of presentation can be a slide-show or a performance or anything.
Studio Information
ArtTheater dB Kobe is a small theatre space with a stage (W 9m x D 7.2m x H 6m) and a wooden floor area (approx. 90㎡) used for audience seats. The space has been used for various types of performance, such as dance, theater, concerts, gigs, gatherings and parties.
Studio PLOW is a dance studio located in the International Shared-house Mare. The word PLOW means "cultivate" and "Big Dipper." PLOW is a place to cultivate the body on a constant basis and prepare the ground for the creation of new works.
Accommodation Information
Participants are going to stay in our shared house called Kotobukiso. Kotobukiso is an old Japanese-style house with a number of 4 residents at maximum. It has 3 semi-private rooms, 1 private room, a living room, a kitchen with utensils, a bathroom with a shower, and 2 toilets. It's also equipped with necessary home appliances, such as a refrigerator, microwave, and washing machine. They will provide a futon and towels for each participant. Staying in Kotobukiso is not mandatory. If you would like to stay in another place alone, they might be able to introduce some places, but can't guarantee it and the cost needs to be covered by yourself.
Location
Shin-Nagata is a small town in Nagata-ku, Kobe, Hyogo Prefecture. Nagata-ku has a population of around one hundred thousand and is very close to both the sea and mountains. While it's the smallest district among Kobe's 9 districts, it has the highest population density. The region suffered the largest number of casualties in the Great Hanshin Earthquake in 1995 and has the slowest rate of restoration. Also, Nagata-ku is called an "advanced city", in a way, due to many problems, such as the high rate of population ageing and the increasing number of abandoned houses and welfare recipients, which most likely a lot of local communities in Japan face now/in future. That being said, the region has a bright side. In recent years, many local cultural and art activities are held in cooperation with local welfare and medical services/organizations, and a lot of artists and creators have moved to Nagata-ku, stimulating the community with unprecedented ideas and a fearless spirit of challenge. Also, the number of residents from overseas has been increasing and now Nagata-ku has the largest Korean and Vietnamese communities in Kobe.
日程

Duration:
December 11, 2023 ~ December 22, 2023

会場

ArtTheater dB Kobe, Studio PLOW

ご予約

Application guidelines:

Please fill in the form or please email them a pdf with the following information within two pages of A4 paper.

Artist name, Name, Nationality

Date of birth (age)

Email address

Address (including a postal code and room number)

CV / Profile (pdf)

Headshot (jpg only)

Things you want to try/practice through this program

Weblinks for your past performance (please do not send data)

Link for the form here.

お問合せ

Addresses

Shin-Nagata, Hyogo
653-0041
Japan